Five Podcasts For Dads & Podfathers
Spotify for example, have spent fortunes buying podcast content. The likes of Joe Rogan, Michelle Obama and Dax Shepard have all joined the stream giant.
All tastes are catered for in podcast land. It's niche after niche. We even have podcasts about podcasts.
Today I'll discuss the phenomenon and share my favourite 'Dad' podcasts.
Brief History of Podcasts
Let me take you on a journey. I've been listening to podcasts since 2004, welcome to the party.
In 2004, my favourite podcast was the 'Daily Source Code'. It was presented by former MTV presenter 'Adam Curry'. His podcast was slick and ground-breaking at the time.
He revolutionised podcasting, earning the title 'Podfather'. He still podcasts today, on the satirical show 'No Agenda'. Curry is a podcast legend, no doubt about it.
Back in those days, podcasts required effort. You downloaded to a PC, then transferred the MP3 file (via USB) to a device. It was a clunky process. Today's podcast addicts, have it easy.
Today's podcast addicts, have it easy.
The confinements of lockdown, have left me listening to them more than ever. Here are some of my favourite dad-related shows.
1. First Class Fatherhood
This podcast was launched in 2018, by Alex Lace (website). It was the first dad podcast I listened to.
It features interviews with high profile celebrity dads. The term 'first class' should be taken loosely. There was a podcast show with Jordan Belfort recently, famously portrayed by Leonardo Di Caprio in 'The Wolf of Wall Street'.
It's a good listen and fatherly focused. Irrespective of circumstance, you can always find common ground, when you're a dad.
Website: https://firstclassfatherhood.com/
2. Dave Berry's Dadpod
Launched a couple of years ago, when radio DJ Dave Berry became a new father.
I really enjoy this one, it feels like a journey. The guests are top notch and the content is varied. A recent guest was Tyson Fury and it was interesting to hear his parenting perspective.
The podcast is evolving too, as his daughter grows up. Baby problems have progressed into toddler problems. A little more UK centric, but well worth a listen.
Website: https://planetradio.co.uk/podcasts/dave-berry-dadpod/
3. Jeff Brazier - Only Human
Launched this year, I have grown to really like this one.
Jeff Brazier, a trained life coach who covers many subjects. He talks candidly about the struggles in his own life, across parenting, relationships and mental health.
It strikes a chord with me, because I'm big into self-help. He has two teenage boys and it's interesting to hear his perspective.
Website: https://planetradio.co.uk/podcasts/jeff-brazier-only-human/
4. The Modern Dads Podcast
This one has been around years.
It wins awards regularly and addresses the challenge of being a dad. The quality of guests is high and you always learn something.
I like to read, and regularly they interview authors. Well worth listening to, because they don't hold back and dress-up the parenting experience.
Website: https://citydadsgroup.com/blog/podcast/
5. DadPodUK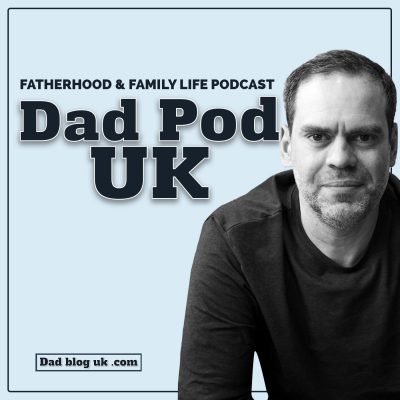 A newer podcast by 'dad blogger' John Adams (
https://dadbloguk.com/)
, which was launched last year.
John is a 'stay at home' dad, and the main care-giver to his daughters. He also reads my blog, which I applaud!
It covers many parenting challenges, which I can relate to. The quality of guests continue to rise, and I predict great success for this podcast.
Website: https://dadpoduk.libsyn.com/
Final Thoughts
Get listening to podcasts, join the revolution.
Talented people are giving away their knowledge for free. What's not to like?